Notify someone about an issue change
While editing the issue details, one or more users can be informed about the specific change.

Add one or more users to the 'Notify' field to trigger a one-time email sent to them about the changes.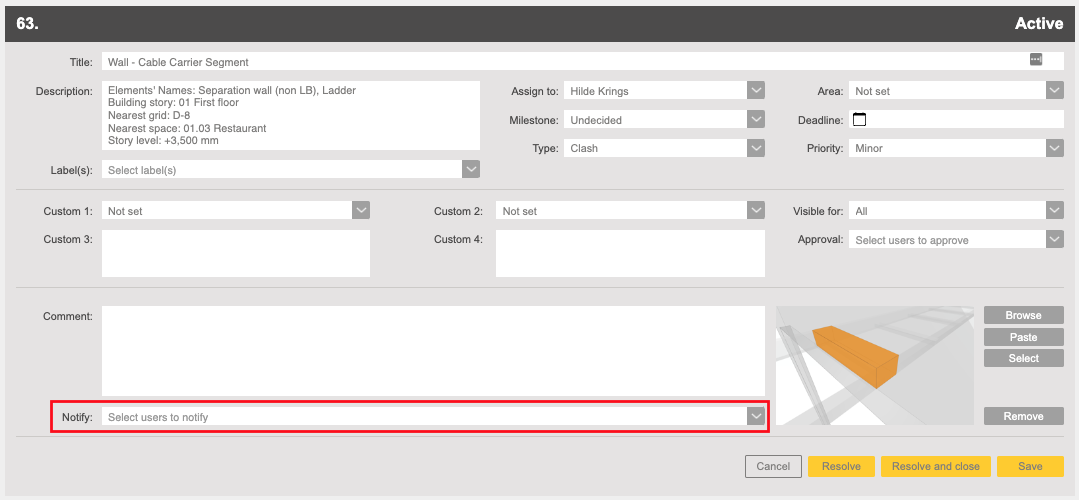 Other notification options:

Follow an issue to track all changed of an issue

Automatically send the team member report or the project leader report. Edit the team member settings to alter email notification frequency for these reports.​​

Related Articles

Follow an issue

In Connected and Enterprise plans, in order to keep track of one or multiple issues, it is possible to follow an issue and get notifications about changes to the issue. Notification about a change are sent immediately by email. How to follow or ...

Change the default viewpoint of an issue

By default, the first viewpoint that is added to an issue when the issue is created, is used as the main viewpoint of the issue. The snapshot of this viewpoint is displayed as a thumbnail in all issue overviews in the BIMcollab ecosystem and is used ...

Issue changelog

Each Issue contains its own detailed history including all the changes and comments applied to it. This information can be visible or hidden. Changelog visible When the issue changelog is visible, the information on the following activities will be ...

Good issue management

Using an issue management platform like BIMcollab Cloud can save time, avoid mistakes and create transparency within a team. As powerful as BIMcollab's issue management may be, if it is not used in a structured way, the full potential may not be ...

Delete an issue

Sometimes it may be necessary to delete issues from a project in BIMcollab Cloud. This could be due to them being created by mistake or being duplicates. This article describes how the space administrator can assign users the right to delete issues ...