Viewing openings and spaces
Virtual components such as spaces and openings are hidden by default. These can be enabled by going toView > Spaces / Openings.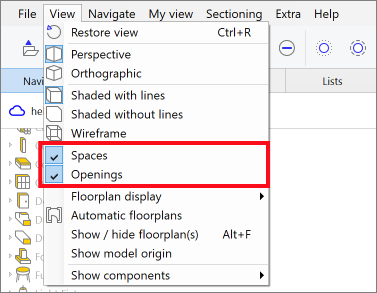 Once enabled they can be shown by selecting elements with type Space or Opening in the modeltree, right clicking on them and choose 'Show/hide components', or add them to 'My view'.


Use these hotkeys to show and hide spaces and openings quickly:

ALT + S for spaces

ALT + O for openings
You can also enable or disable the display of spaces and openings by using the

button in the ribbon.
ENGLISH | < 1 MIN WATCH



Related Articles

Finding issues in BIMcollab ZOOM

By creating a combination of models (created by different disciplines) you can visually detect conflicts between these model. Next to this, ZOOM has Smart views that can automate identifying and coloring components based on defined or undefined ...

IFC data validation with Smart views

Smart views can be used in a variety of ways: to visualize properties, to check if your model complies to IDM (Information Delivery Manual) agreements, or to filter certain elements. Example In this example we will create a Smart view to visualize ...

What added features does BIMcollab ZOOM offer on top of IFC model viewing?

ZOOM offers a lot more than IFC viewing, such as: Visual model validation of IFC models with the help of smart views Check your model against an IDM* with smart views, and create issues Create a federated model from multiple IFC files and save as ...

Properties in the Summary tab

The Summary tab displays a comprehensive list of properties related to the selected element. A list of supported properties, including original IFC attribute names, can be found in the component properties window. Some of the more expert properties ...

Why a desktop app and not browser based?

Cloud based systems are essential for sharing information and working together on models and issues. However, to be cloud based does not mean that all functionality needs to be browser based. For managing large (federated) models we believe that the ...