View shared resources in BIMcollab Nexus
Collaborating with team member in a BIMcollab Nexus project can be expanded by using BIMcollab Zoom, our
model validation application
.
The tools to perform clash detection and data extraction in Zoom can be shared easily with others in the project after connecting to BIMcollab Nexus
. These shared resources, can be viewed in BIMcollab Nexus via the "Checking" tab.
What does the "Checking " tab contain?

Specification - for property validation (IDS)




Smart properties - to classify and restructure model data

Smart views - for model insight and validation

Clash rules - to perform clash detection




Lists - for model data extraction




To edit or remove the shared Zoom resources, you should open BIMcollab Zoom and make the desired change (Only if you have Zoom edit rights).

However, the "Specifications" are edited, removed or added on BIMcollab Nexus and only by the project leaders.

Specification setup for your project in BIMcollab Nexus is a necessary step before starting any IDS property validation in BIMcollab Zoom. Follow this article to
create an IDS in BIMcollab Nexus
.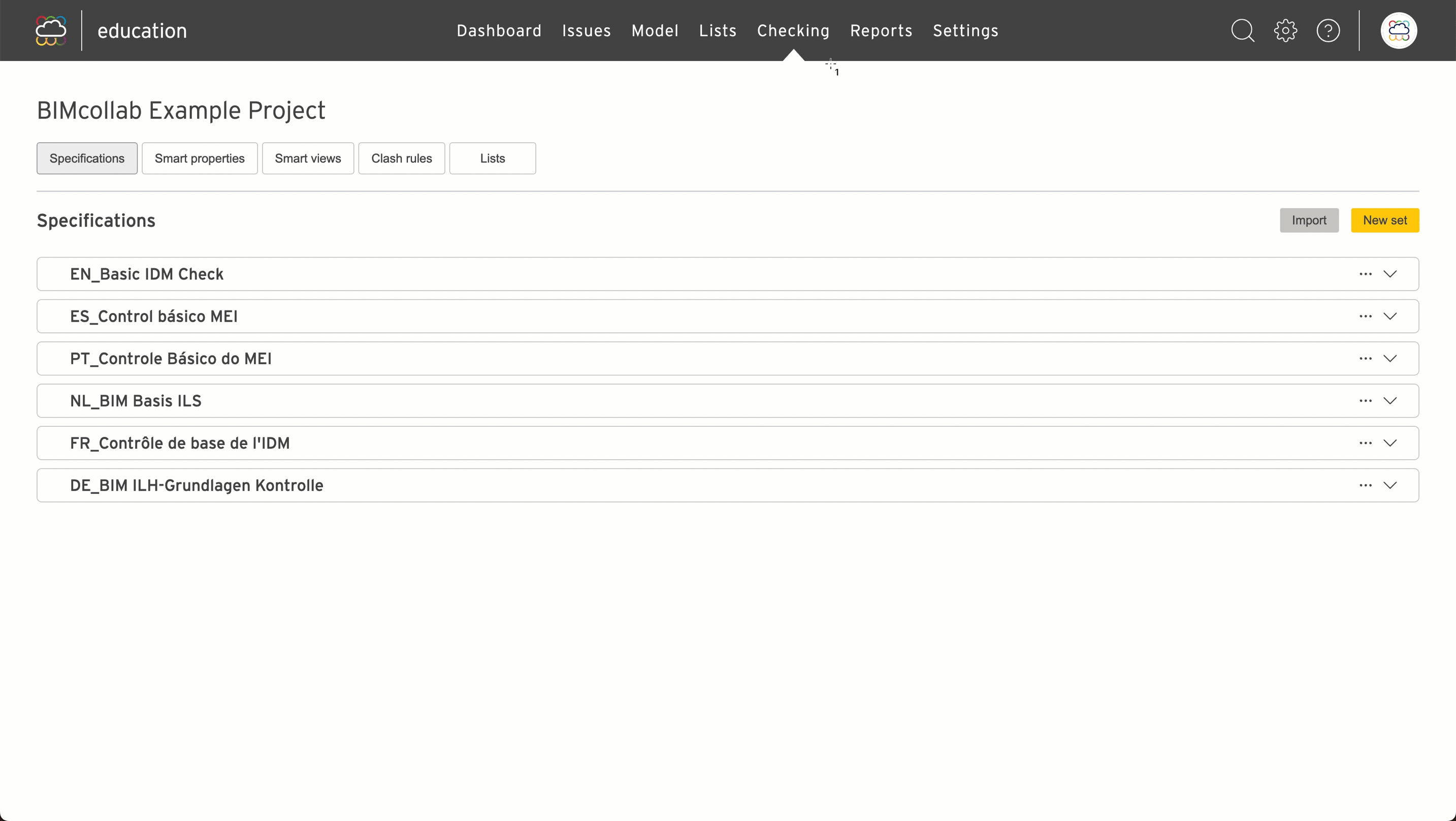 Information about sharing Zoom resources

Related Articles

Edit and comment on issues

In BIMcollab Nexus, as well as with BIMcollab Zoom or the BCF manager you can add comments to existing issues and edit it's properties, BIMcollab Nexus From BIMcollab Nexus, you can add comments and edit issues from the Issues page of your project ...

Quick Start Guide BIMcollab Nexus

BIMcollab Nexus serves as a central hub for collaboration among construction and design teams involved in BIM projects. This platform facilitates seamless teamwork by enabling the collaborative management of BIM data, intricate models, and ...

Set your language of your BIMcollab account

My BIMcollab ID / Join.bimcollab.com Go directly to the My BIMcollab ID page. Or on join.bimcollab.com, click on your avatar, and choose 'My account', which redirect you to the My BIMcollab ID page Select the language you prefer under 'Preferences' ...

Manage a BIMcollab Nexus

Administrators can reach the administration page by clicking on the gear icon in the top right corner and choosing Administration. If you do not see the gear icon, you do not have administrative rights in the space. The administration page is easily ...

Model tab in BIMcollab Nexus

BIMcollab Nexus is a platform that offers an array of online model viewing features, allowing users to seamlessly navigate through intricate models, analyze properties, and address issues efficiently. In this article, we will delve into the three ...