Some of my elements have no wireframes
Only building elements have a wireframe. To avoid unwanted slowdowns and performance drops, BIMcollab ZOOM does not generate wireframes for meshes with more than 10 000 vertices.

The wireframe display can be activated via
View > Wireframe.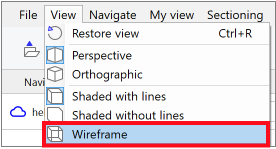 Related Articles

Set up smart views to both color and set transparency of components

To color elements and make them transparent at the same time, follow these steps: Add the elements which you want to show when activating the smart view Use the 'Set colored' action first for the elements which you want to color Use the 'Set ...

My smart view results in an empty view

All Smart views start with an empty view. To see the components you want, you must always explicitly add them to the view by using one of the three ADD actions. Add Add elements to the view with their original color Add and set colored Add elements ...

My view

'My view' is a stored list of components, which functions like a selection basket. You can use the button to add elements to My view, and the button to extract elements from My view. By using the button , currently selected items (in the model tree ...

Classify components with auto-color

Smart views can be used for color coding and classifying components automatically. This includes providing a legend showing values and corresponding colors for reference. In this example we will create a Smart view for 'Material classification'. ...

Finding and filtering similar components

In BIMcollab ZOOM you have the possibility to find or hide elements which are similar to the selected element. Select an element for which you want to show similar components in the 3D window or the model tree Go to the Properties panel, ...