Some of my elements have no wireframes
Only building elements have a wireframe. To avoid unwanted slowdowns and performance drops, BIMcollab ZOOM does not generate wireframes for meshes with more than 10 000 vertices.

The wireframe display can be activated via
View > Wireframe.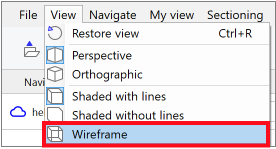 Related Articles

Why are so many elements hidden during navigation?

ZOOM is built to provide very smooth navigation. To do so, it will render as much elements as possible while maintaining a high frame rate. If only a little amount of entities remains visible, it is possible that there are several complex elements in ...

Set up smart views to both color and set transparency of components

To color elements and make them transparent at the same time, follow these steps: Add the elements which you want to show when activating the smart view Use the 'Set colored' action first for the elements which you want to color Use the 'Set ...

My smart view results in an empty view

All Smart views start with an empty view. To see the components you want, you must always explicitly add them to the view by using one of the three ADD actions. Add Add elements to the view with their original color Add and set colored Add elements ...

My view

'My view' is a stored list of components, which functions like a selection basket. You can use the button to add elements to My view, and the button to extract elements from My view. By using the button , currently selected items (in the model tree ...

Force the dimension tool to measure from point to point

By default, the dimension tool will automatically measure the perpendicular distance between two selected elements (for example, between a point and an edge). If you want the measurement to be made between the two points you have clicked, you can ...