Smart view set voor controle NAA.K.T. materialen naamgeving
Voor BIMcollab Zoom is een set Smart views ontwikkeld waarmee op

eenvoudige wijze van een 3d model de materiaalbenamingen kunnen worden gecontroleerd.

Open een 3D model (IFC) in BIMcollab Zoom, importeer de Smart view set, en zie direct of de materiaalbenamingen kloppen volgens NAA.K.T.

Laden van de smart views

Ga in BIMcollab Zoom naar de tab 'Smart views'

Klik op 'Import' om de set smart views in te lezen

Zo ziet de set van Smart views er uit: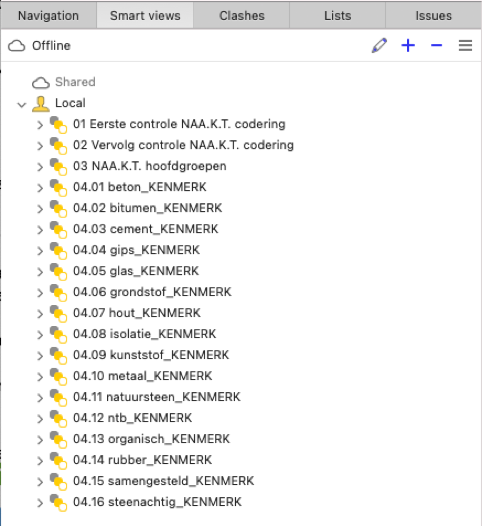 Gebruik van de smart views

De set is in 4 groepen verdeeld:

01 Eerste controle:


Smart view 1: laat direct zien welke elementen een correcte materiaalbenaming hebben

Smart view 2: laat zien welke elementen geen correcte codering hebben



02 Vervolg controle
Deze smart views maken inzichtelijk wat er niet klopt in de benaming, zoals bijvoorbeeld ontbrekende underscores, of spaties in de naam.


03 NAA.K.T. hoofdgroepen
Hiermee kan snel een groep van elementen met dezelfde hoofdgroep worden weergegeven. Voor iedere hoofdgroep (beton, glas, bitumen, etc.) is een smart view aanwezig.


04 Hoofdgroepen en kenmerken
Hiermee kan snel een groep van elementen met dezelfde eigenschapen voor 'hoofdgroep+kenmerk' worden weergegeven. Hiermee kan nog verder op de hoofdgroep ingezoomd kan worden.

Deze BIMcollab Zoom Smart views zijn aangemaakt op basis van de standaard Excel lijst van NAA.K.T.: "NAA_K_T_Bouwmateriaallijst_Beta_210415.xlsm"

Indien eigen benamingen zijn toegevoegd aan deze lijst, dan moeten deze worden toegevoegd aan de smart view sets. De aanpassingen zijn met name voor Groep 1 en Groep 4.

Related Articles

Why does my Smart view result in an empty view?

All Smart views start with an empty view. To see the components you want, you must always explicitly add them to the view by using one of the three ADD actions. Add Add elements to the view with their original color Add and set colored Add elements ...

Set up smart views to both color and set transparency of components

To color elements and make them transparent at the same time, follow these steps: Add the elements which you want to show when activating the smart view Use the 'Set colored' action first for the elements which you want to color Use the 'Set ...

Organize Smart views

All Smart views are placed in Smart view sets to make them easier to manage. You can right-click on one of the two folders ('Local' or 'Shared') and choose 'Add smart view set'. You can also use the '+' button to add a Smart view set or a Smart ...

What does 'My view' do?

'My view' is a stored list of components, which functions like a selection basket. You can use the button to add elements to My view, and the button to extract elements from My view. By using the button , currently selected items (in the model tree ...

IFC data validation with Smart views

Smart views can be used in a variety of ways: to visualize properties, to check if your model complies to IDM (Information Delivery Manual) agreements, or to filter certain elements. Example In this example we will create a Smart view to visualize ...