Smart view set for checking of NAA.K.T. materials naming
The NAA.K.T. material naming is a Dutch coding sytem to have unambiguous values in a BIM project, and to facilitate collaboration.

We developed a Smart view set with which you can easily check the material names of an IFC model.
Open an IFC model in BIMcollab ZOOM, import the Smart view set, and see immediately if the material names are correct according to the NAA.K.T. coding.
Import the smart views

Go to the 'Smart views' tab in BIMcollab ZOOM.

Click 'Import' to add the smart view set



The smart view sets look as follows: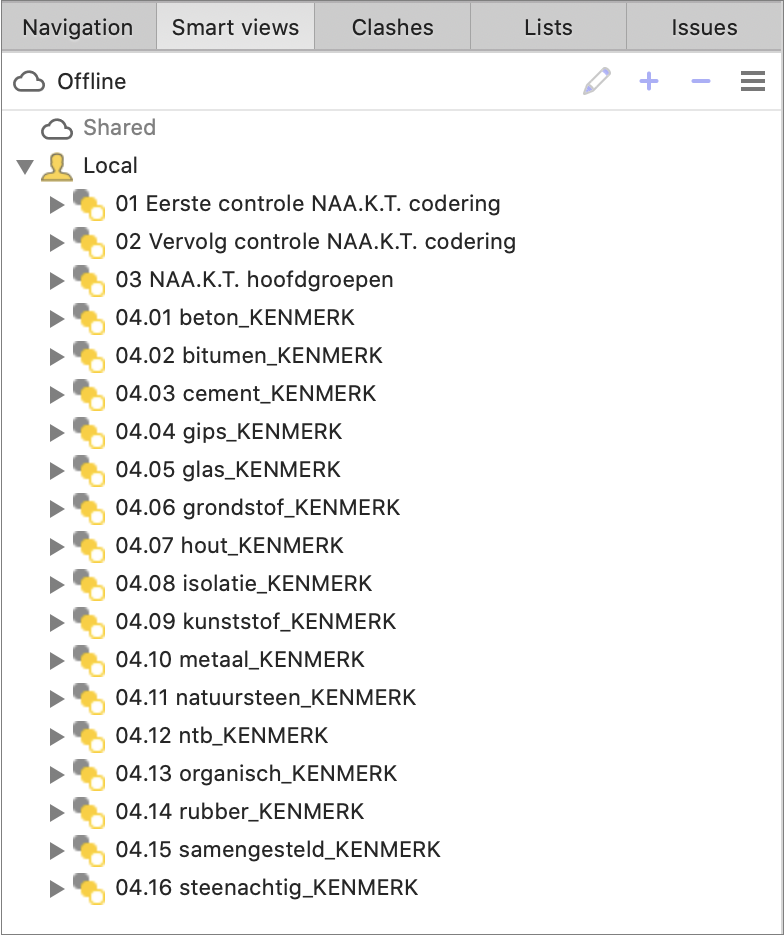 Making use of the smart views

The sets are divided in 4 groups:

01 Eerste controle - First check:


Smart view 1: instantly shows which elements have a correct material designation
Smart view 2: shows which elements do not have a correct material designation



02 Vervolg controle - Follow-up check
These smart views provide insight into what is incorrect in the name, such as missing underscores, or spaces in the name.


03 NAA.K.T. hoofdgroepen - NAA.K.T. main groups
This allows to quickly display a group of elements with the same main group. A smart view is available for each main group (concrete, glass, bitumen, etc.).


04 Hoofdgroepen en kenmerken - Main groups and attributes
With this you can quickly display a group of elements with the same properties for 'main group+attribute'. It allows you to zoom in even further on the main group.

These BIMcollab ZOOM Smart views were created based on NAA.K.T's standard Excel list: "NAA_K_T_Bouwmateriaallijst_Beta_210415.xlsm"

If custom names have been added to this list, they must be added to the smart view set. The changes are important for Group 1 and Group 4 in particular.
DUTCH - 3MIN
Related Articles

My smart view results in an empty view

All Smart views start with an empty view. To see the components you want, you must always explicitly add them to the view by using one of the three ADD actions. Add Add elements to the view with their original color Add and set colored Add elements ...

My view

'My view' is a stored list of components, which functions like a selection basket. You can use the button to add elements to My view, and the button to extract elements from My view. By using the button , currently selected items (in the model tree ...

Set up smart views to both color and set transparency of components

To color elements and make them transparent at the same time, follow these steps: Add the elements which you want to show when activating the smart view Use the 'Set colored' action first for the elements which you want to color Use the 'Set ...

Basics of making smart views

Smart views are rule based filtering and colouring of objects. Based on properties you can show, hide, or colour components in the 3D window. It is great for visually checking against an IDM. The smart views are a functionality of ZOOM Free. Creating ...

IFC data validation with Smart views

Smart views can be used in a variety of ways: to visualize properties, to check if your model complies to IDM (Information Delivery Manual) agreements, or to filter certain elements. Example In this example we will create a Smart view to visualize ...