My smart view results in an empty view
All Smart views start with an empty view. To see the components you want, you must always explicitly add them to the view by using one of the three ADD actions.

Add
Add elements to the view with their original color
Add and set colored
Add elements to the view and display them with a color of your choice
Add and set transparent
Add elements to the view and display them transparent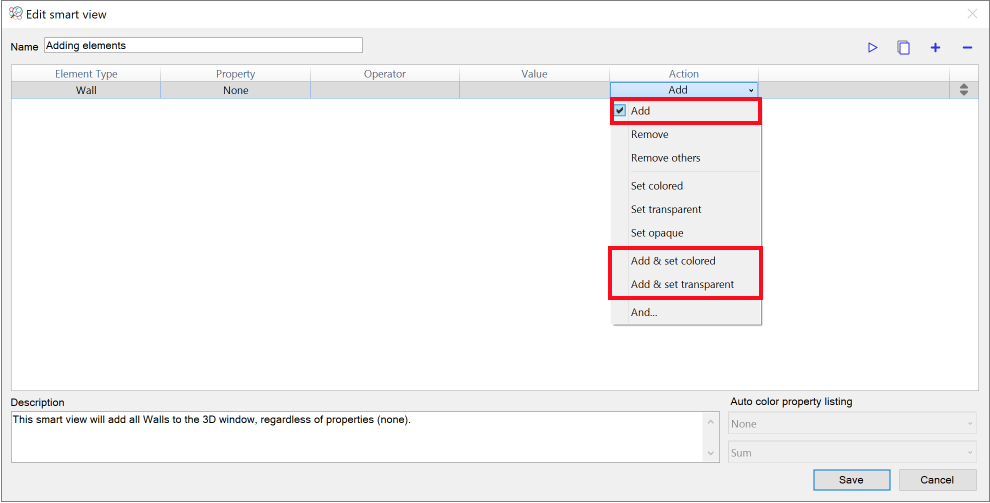 If the view is still empty after having added elements, this means no elements meet the defined properties in the Smart view.
Related Articles

Create Smart Issues by reporting clash results

Smart Issues in BIMcollab are issues that contain and track reported clashes from BIMcollab ZOOM. In a traditional model checking workflow, clashes are detected in a model validation tool and reported as issues. When new models are created, the clash ...

View shared results of Lists

When the results of a list have been shared by one of the team members, they can be viewed by the whole team in BIMcollab ZOOM and BIMcollab Cloud. For more information on how to share the results, consult the article Share results of Lists with my ...

Smart view sets - downloads

On this page you can find some special purpose Smart view sets to help you get started in BIMcollab ZOOM. Example Smart views Default Smart view sets IDMs English / General Basic IDM Dutch / The Netherlands and Belgium BIM basis ILS - v.2.01 BIM ...

My view

'My view' is a stored list of components, which functions like a selection basket. You can use the button to add elements to My view, and the button to extract elements from My view. By using the button , currently selected items (in the model tree ...

Basics of making smart views

Smart views are rule based filtering and colouring of objects. Based on properties you can show, hide, or colour components in the 3D window. It is great for visually checking against an IDM. The smart views are a functionality of ZOOM Free. Creating ...