BIMcollab ZOOM is a desktop IFC viewer for model validation. the full functionality of BIMcollab ZOOM can be unleashed by acquiring a full ZOOM license.

This article will take you through the procedure to obtain a free 30-day trial of BIMcollab ZOOM step by step.

Step 1: Register

Once there, fill in the required information. Make sure you use a valid email address so that you will receive a confirmation.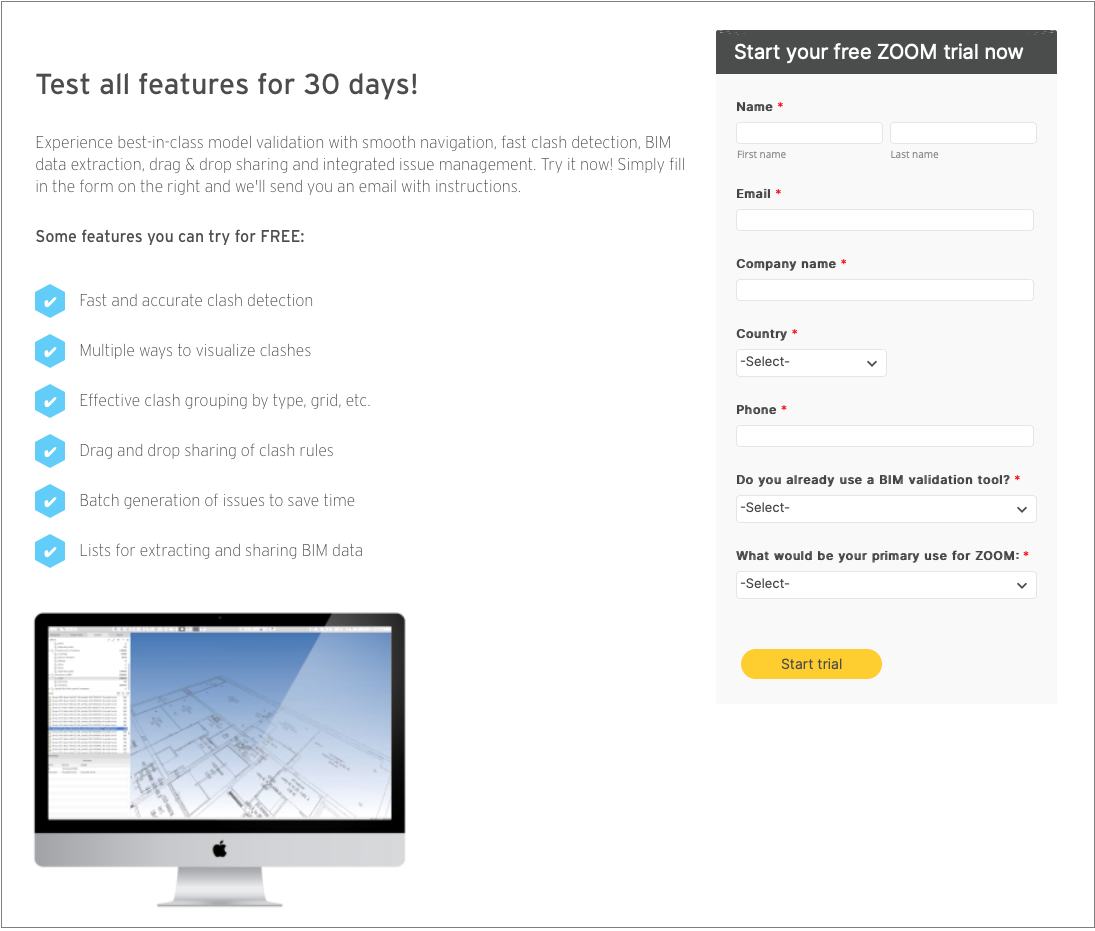 Step 2: Read the confirmation e-mail

You will receive a confirmation e-mail which will provide you with some extra information as well as instruct you in the necessary steps to start the trial as described in this guide.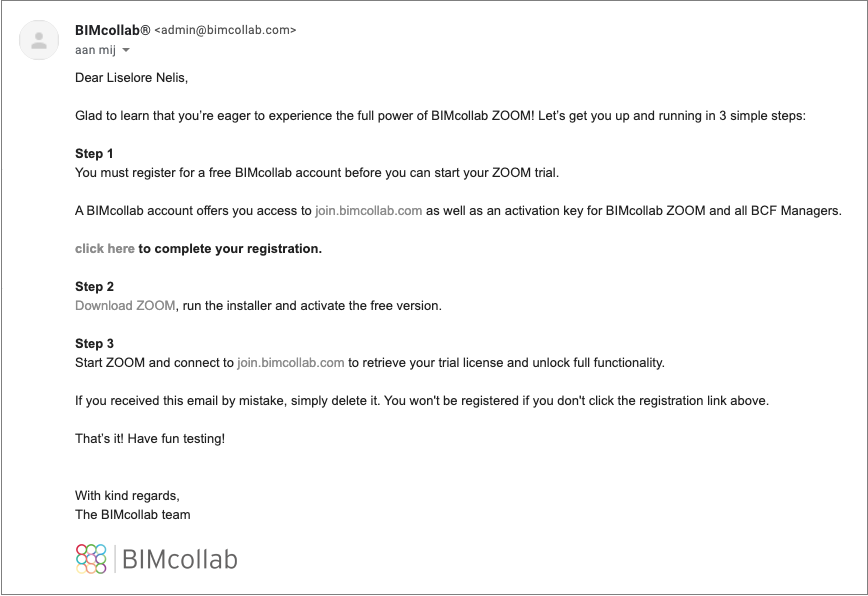 Step 3: Create your own free BIMcollab account

If you do not yet have a free account on join.bimcollab.com, one will automatically be created for you when you request a Trial license.

From the confirmation e-mail, you can confirm your registration.
You will be asked to set a new password, and fill in your name and initials, as well as other personal information.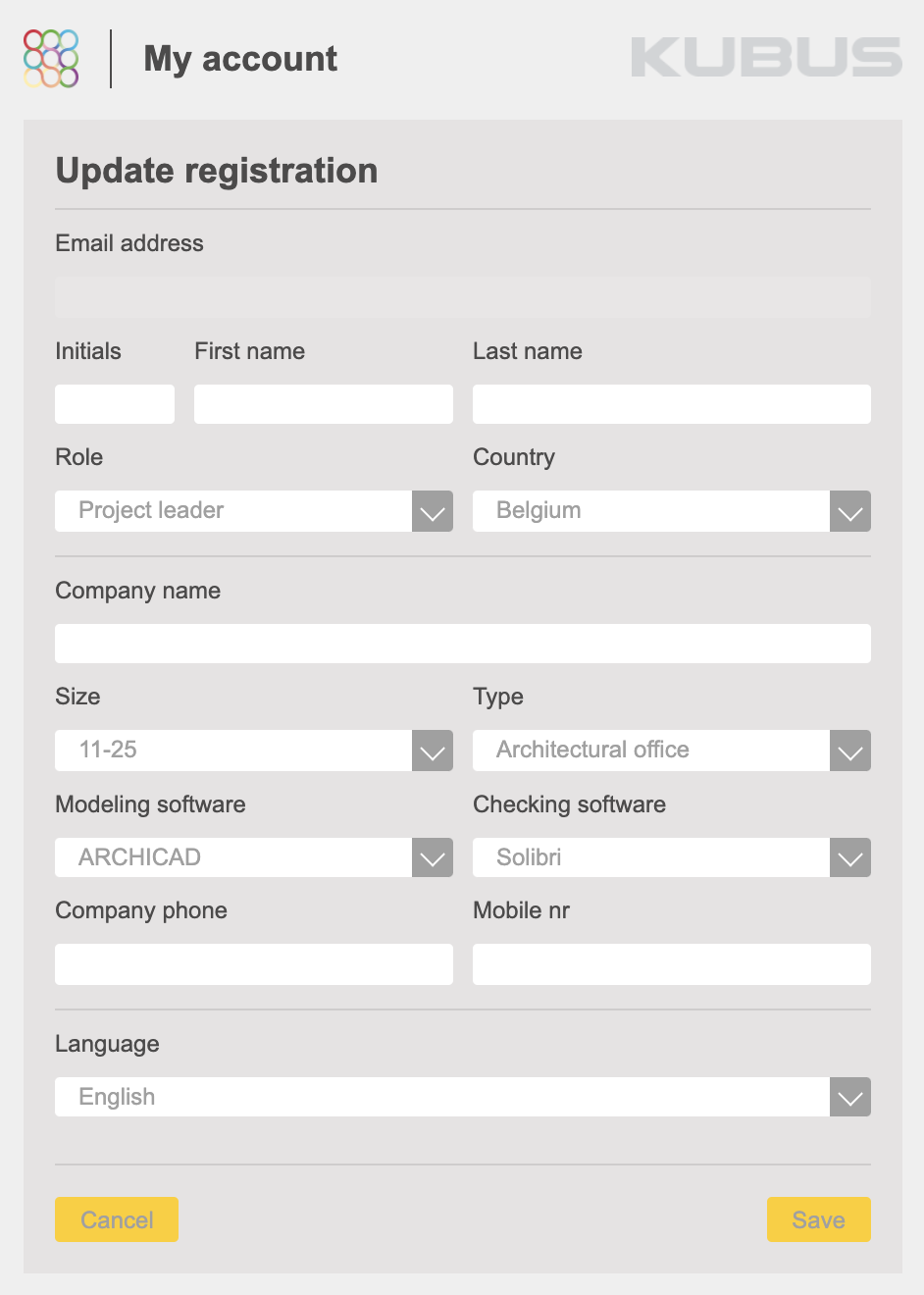 You can also go here to register beforehand:

If you already have an account on join.bimcollab.com with the same email address as with which you requested the Trial license, the license will be automatically connected to the existing account.

Your ZOOM Trial license will be available to you when you are connected to a project on join.bimcollab.com from BIMcollab ZOOM, including the BIMcollab Example Project.


Step 4: Download and install BIMcollab ZOOM
Once downloaded, you can install the application on your computer.


Step 5: Start BIMcollab ZOOM and retrieve your Trial license

Start BIMcollab ZOOM to start making use of your ZOOM Trial license.


If you are new to BIMcollab ZOOM, consult the
Quick Start Guide
for more information.
If this is a first time installation, an activation might be requested. You can find the activation key in your welcome email, as well as in you account on join.bimcollab.com by going to Settings > Preferences.


Follow these steps to connect to your project on join.bimcollab.com, and retrieve you ZOOM Trial license:

Open BIMcollab ZOOM and click on the Connection icon

Fill in the following information:


BIMcollab: join.bimcollab.com

Your email address

Your password


Choose 'Connect'

Choose the BIMcollab Example Project or any other project which you want to connect to

Click OK


The connection will check if a ZOOM license is available for your account, and will activate your ZOOM Trial license.

You can confirm whether you are using a license by looking for the text 'Trial mode', and the amount of days remaining in your trial period in the lower left hand corner of BIMcollab ZOOM.

If the text is 'Free mode', you are still using a free license.


Step 6: Use as you like

You can now use your ZOOM Trial license in combination with any BIMcollab Cloud spaces. The connection to your account on join.bimcollab.com is remembered.

Your Trial license is valid for a period of 30 days.

Enjoy your Trial period and feel free to share your experiences with us!


Did you know BIMcollab support is free of charge?

If any issues occur during installation or usage, or you just want to give us a thumbs up, let us know by contacting us through
support@bimcollab.com
.