Set up smart views to both color and set transparency of components
To color elements and make them transparent at the same time, follow these steps:

Add the elements which you want to show when activating the smart view

Use the 'Set colored' action first for the elements which you want to color

Use the 'Set transparent' action on the same elements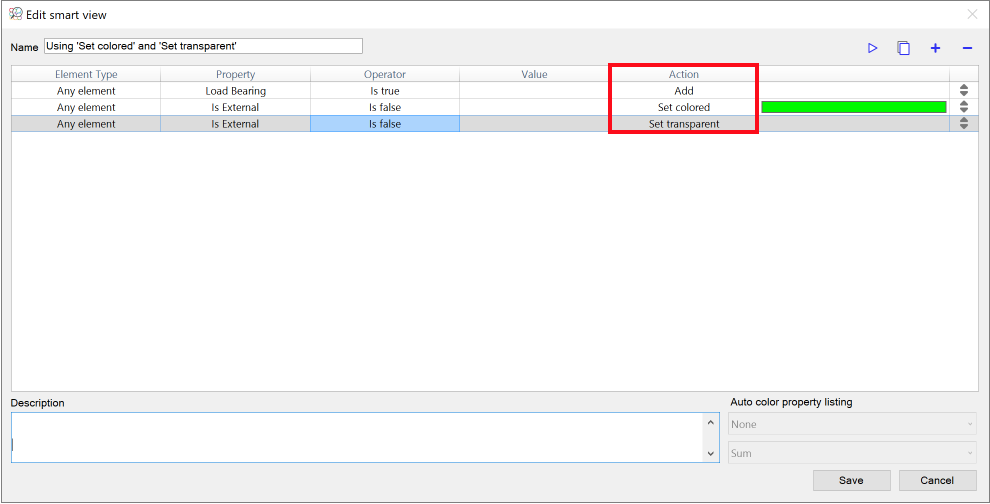 Reversing these actions will result in only changing the component's color.

Related Articles

Classify components with auto-color

Smart views can be used for color coding and classifying components automatically. This includes providing a legend showing values and corresponding colors for reference. In this example we will create a Smart view which gives every element a color ...

Basics of making smart views

Smart views are rule based filtering and colouring of objects. Based on properties you can show, hide, or colour components in the 3D window. It is great for visually checking against an IDM. The smart views are a functionality of Zoom Free. Creating ...

IFC data validation with Smart views

Smart views can be used in a variety of ways: to visualize properties, to check if your model complies to IDM (Information Delivery Manual) agreements, or to filter certain elements. Model validation with Smart Views is available in BIMcollab Zoom ...

Manually change the color of specific components

To color components, you can select them in the 3D window or in the Model Tree and choose the Paint bucket button to give components a color of your choice. A dialog window will open in which you can choose the preferred color to apply to the ...

Organize Smart views

All Smart views are placed in Smart view sets to make them easier to manage. You can right-click on one of the two folders ('Local' or 'Shared') and choose 'Add smart view set'. You can also use the '+' button to add a Smart view set or a Smart view: ...