Properties in the Summary tab
The Summary tab displays a comprehensive list of properties related to the selected element. A list of supported properties, including original IFC attribute names, can be found in the component properties window.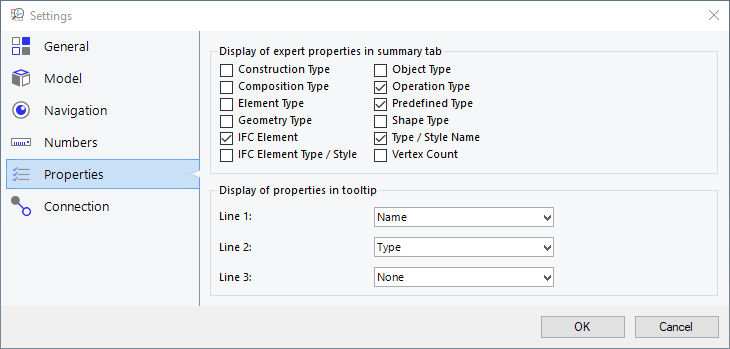 A complete list of supported properties on the Summary tab is available for download in the attachment to this article.
Related Articles

Finding and filtering similar components

In BIMcollab ZOOM you have the possibility to find or hide elements which are similar to the selected element. Select an element for which you want to show similar components in the 3D window or the model tree Go to the Properties panel, ...

Quick Start Guide BIMcollab ZOOM

Find a printable version as attachment This Quick Start Guide describes the work environment and functionalities of BIMcollab ZOOM. It will get you up and running in no time. If you have not yet installed it, download and install BIMcollab ZOOM here. ...

IFC data validation with Smart views

Smart views can be used in a variety of ways: to visualize properties, to check if your model complies to IDM (Information Delivery Manual) agreements, or to filter certain elements. Example In this example we will create a Smart view to visualize ...

Texts and symbols displayed very small or too big (Windows)

If you use multiple monitors, it is possible that texts and symbols in BIMcollab ZOOM are displayed as very small or too big. A workaround is to switch off the scaling, everything is then put on 100%: Right-click on the BIMcollab ZOOM icon (on your ...

Working with point clouds

In BIMcollab ZOOM you can add point clouds to your project in the same way as you would add an IFC model to perform a side by side comparison. In the menu select File > Add to project and select the point cloud file(s) you wish to add the project. ...