How to keep projection mode in Tekla
To force Tekla to stay in its current projection mode when zooming to an issue, go to 'Show the BCF options'

in the toolbar, and choose 'Settings'.
There you can enable the the checkbox 'Keep projection mode'.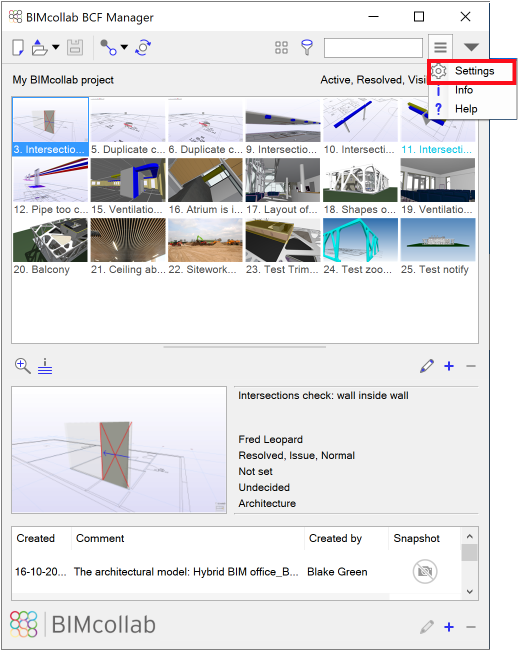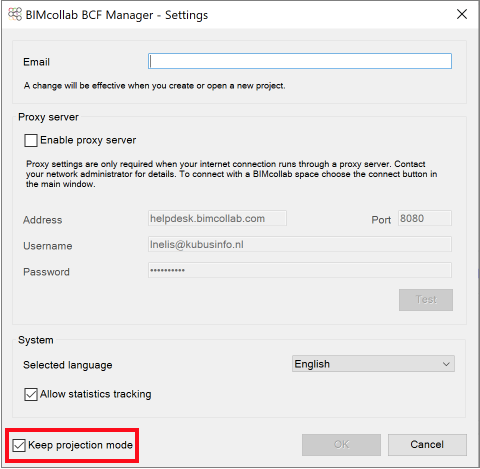 Related Articles

Force orthographic projection in the Revit BCF manager

To force Revit to stay in its orthographic projection mode when you zoom to an issue, go to 'Show the BCF options' in the toolbar, and choose 'Settings'. There you can enable the the checkbox 'Stay in orthographic mode'.

Quick Start Guide BCF Manager Tekla Structures

This Quick Start Guide describes the basic online workflow of the BCF Manager for Tekla. It will get you up and running in no time. If you have not yet installed it, download and install the BCF Manager for Tekla Structures here. Online workflow ...

Define the 3D view mode for Zoom to

You can set a default view mode to be used by the BFC manager. By doing so, you will override the current setting in the 3D view for every zoom to. The choice 'From active view' keeps the Viewmode in the 3D window.

Using authoring software like Revit, Archicad or Tekla with BIMcollab

Get the most out of the BCF Managers What can you do with the BCF Managers which are available? We have an ever increasing amount of BCF managers. Download the manager you need here. Here is an overview of the possibilities: Open/Save BCF files Our ...

Change the issue list to tile view in the BCF Manager

With the latest versions of BCF Manager, you have the possibility to change the display mode of the list of problems. You will have the choice between a list view and three tiled views of different sizes ('Small', 'Medium', and 'Large'). Depending ...