Finding issues in BIMcollab ZOOM
By creating a combination of models (created by different disciplines) you can visually detect conflicts between these models. Next to this, ZOOM has Smart views that can automate identifying and coloring components based on defined or undefined properties. With a license, you also have the possibility to perform a Clash detection in the federated model, from which you can easily create issues.
Below we describe how you can validate models and point clouds in ZOOM using:

Visual analysis

Automated analysis


Visual analysis

Use the 3D view and navigate through the models to perform a visual check. Use
My view
, show or hide components, use quick search to isolate specific models or sets of components, and get a clear view of a potential conflict. Create an
understandable viewpoint
as a basis for your issues.
Automated analysis

In BIMcollab ZOOM, there are several automated ways to validate your model.

Smart Views

BIMcollab ZOOM Smart views can be created to personalize the display of components based on their properties, to make it easier to check models for specific requirements. You can color code or group components based on specific properties, or visualize components that miss specific properties.
Smart views are easy to use, and can be saved and exchanged for structured use throughout a team.


Viewing the results from Smart views

When you use the
Auto color
option in the Smart views, an Auto color legend is generated. Use the legend to understand the color code which was applied to the model by the Smart View, and view and isolate the components for every seperate color.
Clash detection

Use clash detection to locate colliding or duplicated components. You can choose predefined groups of components and set tolerances.

Creating issues

After validating your model, visualize the problematic areas or components by using additional filtering, section planes and a good camera viewpoint. You can add dimensions and annotations to the view, and color components to clarify the problem. When the view is satisfactory, follow these steps to create an issue.

Go to the Issues tab




Click the

+

button to add a new issue, or right click in the 3D view and choose 'Add issue'





Fill in the Title and other fields




The active view will be used as a viewpoint for the issue. You can also a insert a snapshot from a folder on your computer

or

from the clipboard



Choose which components are saved in the viewpoint, and whether the selection and any colors that have been added to the visible components are saved
Save only what is necessary in the issue viewpoint
When creating a new issue, you can select which elements should be saved in the viewpoint:

None = Shows entire model

If necessary, fill in the names of the team members you want to notify about this issue



Hit the 'Save' button and the issue will be created





Any annotations and section planes that are visible in the viewpoint will also be saved in the issue.

Share

When all your results are documented to issues, sync them to your BIMcollab project. Click the 'Synchronize project' button. The issues can now be viewed in Revit, Tekla, ARCHICAD, Solibri, Navisworks and more, with the help of the BCF Managers, as well as in your project on BIMcollab Cloud.


Assigned team members will receive an automated notification regarding the issues that you raised.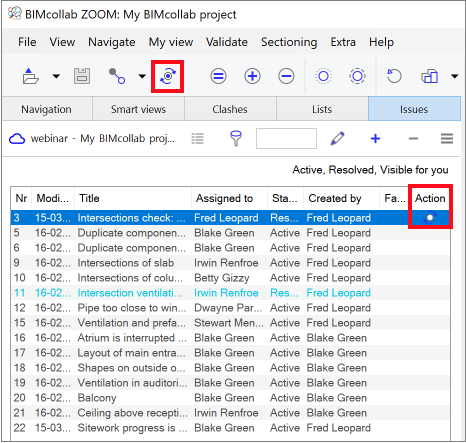 Handling revisions

When you connect to a project on BIMcollab Cloud, which has a linked project folder, or when you open a ZOOM project (BCP-file), BIMcollab ZOOM will reload all models. If the models are overwritten with a newer version, ZOOM will automatically show the up-to-date models, provided the models have the same name as the earlier version.


If your workflow adds revision numbering to the filenames, this means the older versions of the models are not automatically overwritten.

If the old models have been removed from the shared folder, they will be shown in red in the model tree.

When using the linked project folder workflow, the new models will be shown in grey in the model tree. Right click on them and choose 'Load model'. Right click on the old models and choose 'Remove from project'




When using an offline workflow with a BCP-file, you can update the models manually from the navigation tab. Select the old model in the Navigation tab, click on 'Update model' and browse to the revised file


Related Articles

Synchronization of issues in BIMcollab ZOOM

Synchronizing issues to your BIMcollab Space After creating or updating issues in BIMcollab ZOOM, you can synchronize them with the project in your BIMcollab space by clicking on the 'synchronize project' button at the top of the menu: New or edited ...

Creating and editing issues in BIMcollab ZOOM

With BIMcollab ZOOM you can connect to a BIMcollab space and exchange issues directly. You can connect to an existing BIMcollab project or create your own new project. Connecting to your project from BIMcollab ZOOM Choose the desired project by ...

Viewing specific issues in BIMcollab ZOOM

When you are connected to a project, BIMcollab allows you to filter issues based on issue properties such as type, milestone and 'assigned to' and by using favorites. Filtering Use the values from the dropdown or checkboxes to create a filter to view ...

Quick Start Guide BIMcollab ZOOM

Find a printable version as attachment This Quick Start Guide describes the work environment and functionalities of BIMcollab ZOOM. It will get you up and running in no time. If you have not yet installed it, download and install BIMcollab ZOOM here ...

IFC data validation with Smart views

Smart views can be used in a variety of ways: to visualize properties, to check if your model complies to IDM (Information Delivery Manual) agreements, or to filter certain elements. Example In this example we will create a Smart view to visualize ...