Fill in your proxy settings
In some cases, a proxy server in your network unintentionally blocks the BIMcollab ZOOM activation or connection. In most cases, this is automatically detected but if this is not the case, the proxy server data can be entered manually.
For Windows version:
Go to Extra> Settings> Connection and enter the data in the 'Proxy server' section
For Mac version:
Go to the menu BIMcollab ZOOM > Preferences > Connection and enter your proxy server information.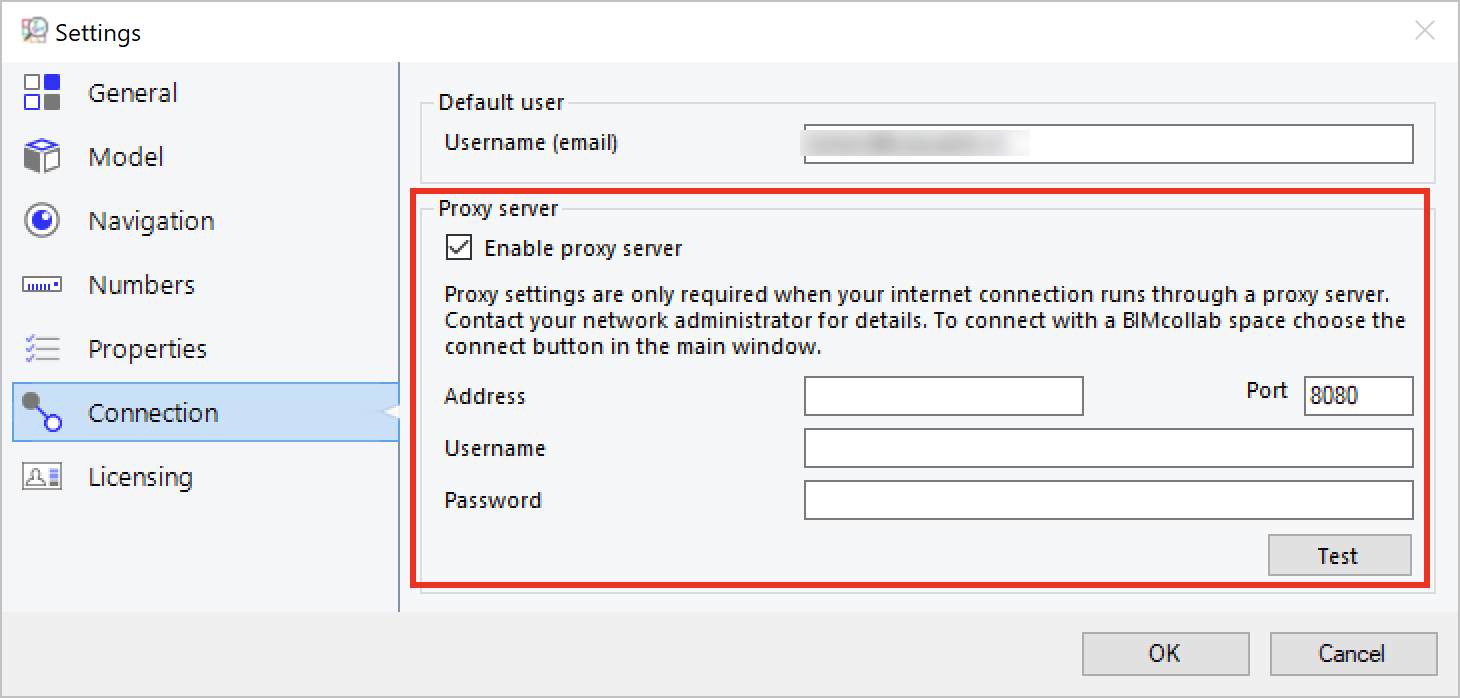 You may have to ask your IT department for assistance.
Related Articles

Activate BIMcollab ZOOM (Free)

First-time activation When you start BIMcollab ZOOM for the first time, you will be prompted to log in with your personal BIMcollab ID to activate the application. If you do not yet have a BIMcollab ID, you can directly create one from the login ...

Activation of BIMcollab ZOOM and BCF Managers with BIMcollab ID

In the new versions of BIMcollab ZOOM (5.3.29) and the BCF Managers (5.6.49), you no longer need an activation key to activate the application. Instead, you will be asked to enter your BIMcollab ID credentials. Your BIMcollab ID is an overarching ...

Headlines history

New prices BIMcollab ZOOM | 01-05-2022 As of May 1st 2022, the prices of our BIMcollab ZOOM licenses will change. Over the past years, we've developed our products at a high and steady rate. We are determined to maintain this pace, while still ...

Retrieve a ZOOM license

When a BIMcollab ZOOM license is available for you (as a personal license, or a company license), you can retrieve the license to make use of ZOOM's full potential. There are two different license types, which can be retrieved in different ways: ...

Setting up your BIMcollab ZOOM Trial

BIMcollab ZOOM is a desktop IFC viewer for model validation. The full functionality of BIMcollab ZOOM can be unleashed by acquiring a full ZOOM license. This article will take you through the procedure to obtain a free 30-day trial of BIMcollab ZOOM ...