Sometimes it may be necessary to delete issues from a project in BIMcollab Cloud. This could be due to them being created by mistake or being duplicates. This article describes how the space administrator can assign users the right to delete issues with
in the space, and how these users can delete issues.

Issues in a free project on join.bimcollab.com can not be deleted.
Assign rights to delete issues

The administrator of a space can choose which users are able to delete issues. By default, no users are granted these permissions. To make changes to this setting, follow the steps below:

Go to the Administration dashboard by clicking on

the gear icon in the top right corner

On the 'Subscription' tab, click 'Space settings'




Choose the desired setting for 'Issues can be deleted by'.

The possibilities for who can delete issues are:


Nobody

Project leaders


Project leaders with admin rights

The third option is designed to allow administrators to be temporarily added to a project as a project leader in order to delete issues.

Click 'Save'
Delete an issue from your project

If you have the right to delete issues from a space, you can do so from the Issues overview of the project.


Issues are permanently deleted, including their history, without the opportunity to be restored.

Be mindful of which issues are deleted. We recommend to only use this possibility when issues have been created multiple times by accident, or issues have been synchronized with the wrong project.
Go to the Issues page of your project
To delete a single issue:


Find the issue you want to delete

In the hamburger menu, choose 'Delete'





To delete multiple issues:


Select the issues you want to delete by marking their checkboxes

At the top of the page, choose 'Delete'





Enter your password to confirm you want to delete the issues
Click 'Delete'

The issues are permanently deleted from the space, and are no longer part of the history of the project.

It is not possible to delete Smart Issues.
Issue history

All changes of an issue (like comments, change of status, issue properties, etc.), are always logged and can be referred to when necessary. This is done to
ensure a full audit trail of a project, and to make sure issues are dealt with transparently and reliably. Deleting an issue means deleting the full audit trail, and this action is only recommended when errors in synchronization occurred.
In any other case, it is recommended to close issues once they have been resolved. That way the project's history shows all changes that have been made and the preservation of the audit trail is guaranteed.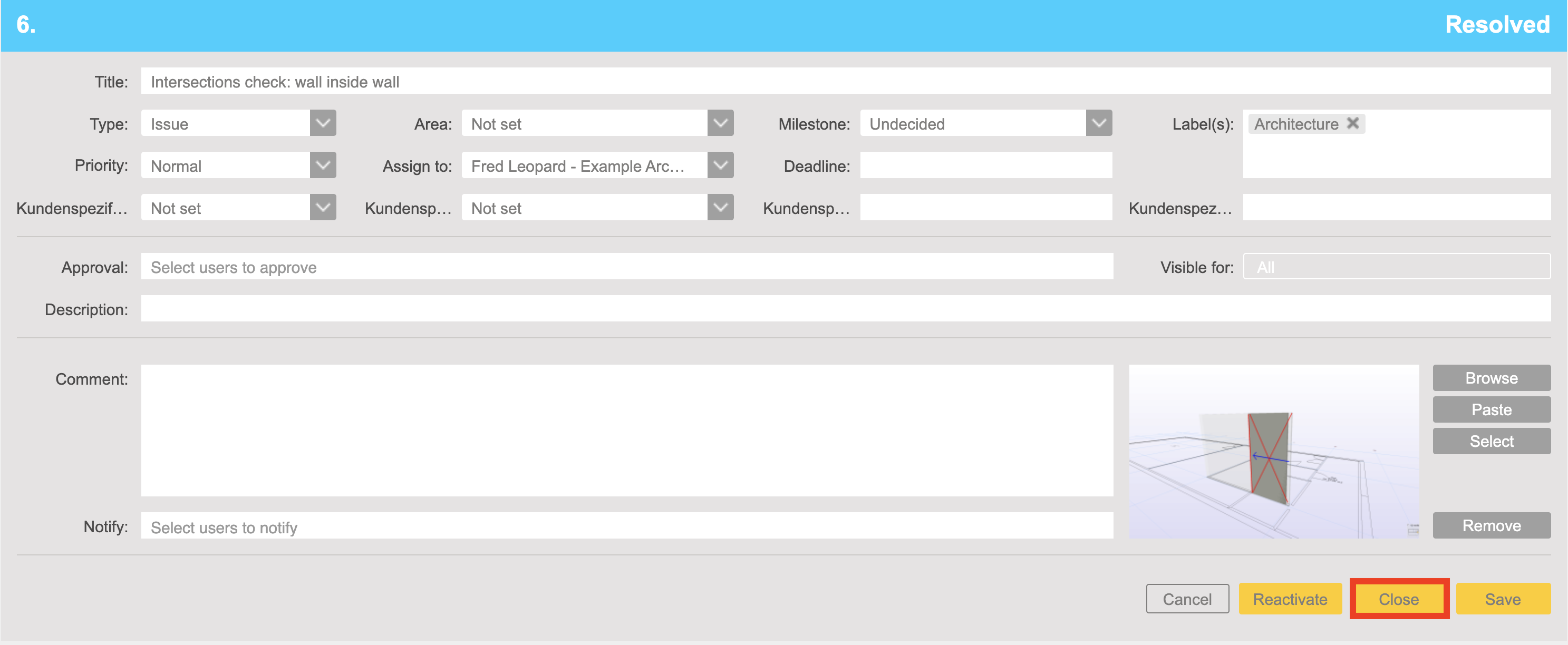 By setting a filter for the status of the issue, closed issues can be easily hidden from lists.