Clash detection with a ZOOM Free license
If you want to test the clash detection in the free version of BIMcollab ZOOM, you can log into your
join.bimcollab.com
account from the free version of BIMcollab ZOOM and select the project "BIMcollab Example project". You will then find a number of clash detection rules in the "Shared (Read-only)" folder.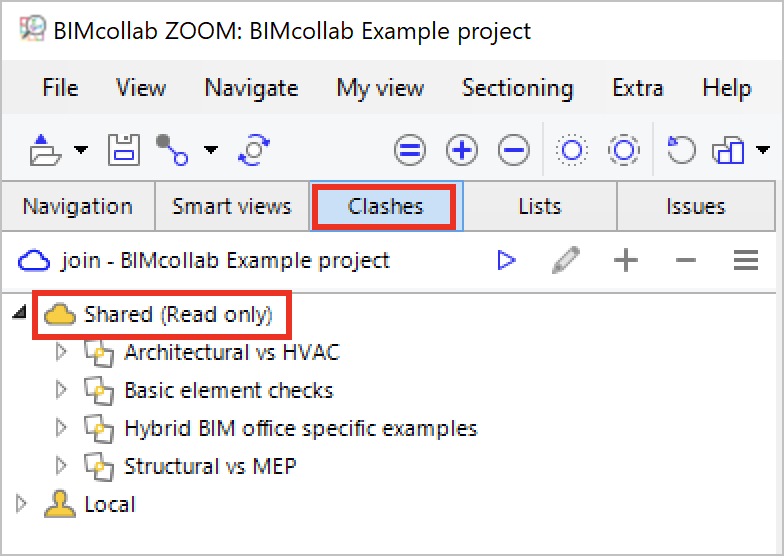 Related Articles

How to perform a clash detection with BIMcollab ZOOM

BIMcollab ZOOM users who have a ZOOM license, so not a ZOOM Free license, can perform clash detection within the loaded set of models. Setup a clash rule Follow these steps to create a clash rule: Start BIMcollab ZOOM with a ZOOM license Connect to a ...

Activate BIMcollab ZOOM (Free)

First-time activation When you start BIMcollab ZOOM for the first time, you will be prompted to enter your personal activation key. This key is automatically sent to you when: An account is created for you on any private cloud You created a free ...

Retrieve a ZOOM license

When you are connected to a space where a BIMcollab ZOOM license is available for you (on join.bimcollab.com or your private space), by default BIMcollab ZOOM will automatically attempt to retrieve the license. You also have the possibility to ...

Purchase a ZOOM license

BIMcollab ZOOM licenses can be purchased in two ways: Company license: these can be purchased as part of a BIMcollab subscription. They work as floating licenses in a license pool. For each license in the pool, a maximum of 5 users can be added to ...

Create Smart Issues by reporting clash results

Smart Issues in BIMcollab are issues that contain and track reported clashes from BIMcollab ZOOM. In a traditional model checking workflow, clashes are detected in a model validation tool and reported as issues. When new models are created, the clash ...