Floor plans in BIMcollab ZOOM are 2D rendered plans consisting of footprints, grids, and space info per building story.
That way you will easily see the context, and your location in the building when you visualize (a set of) objects, without having to show the whole 3D model.

Without a visible floor plan:




With a visible floor plan:




You have the possibility to choose the elements to be displayed on the floor plans. Go to the menu View > Floor plan display, and activate or deactivate the display of footprints, grids, and space information.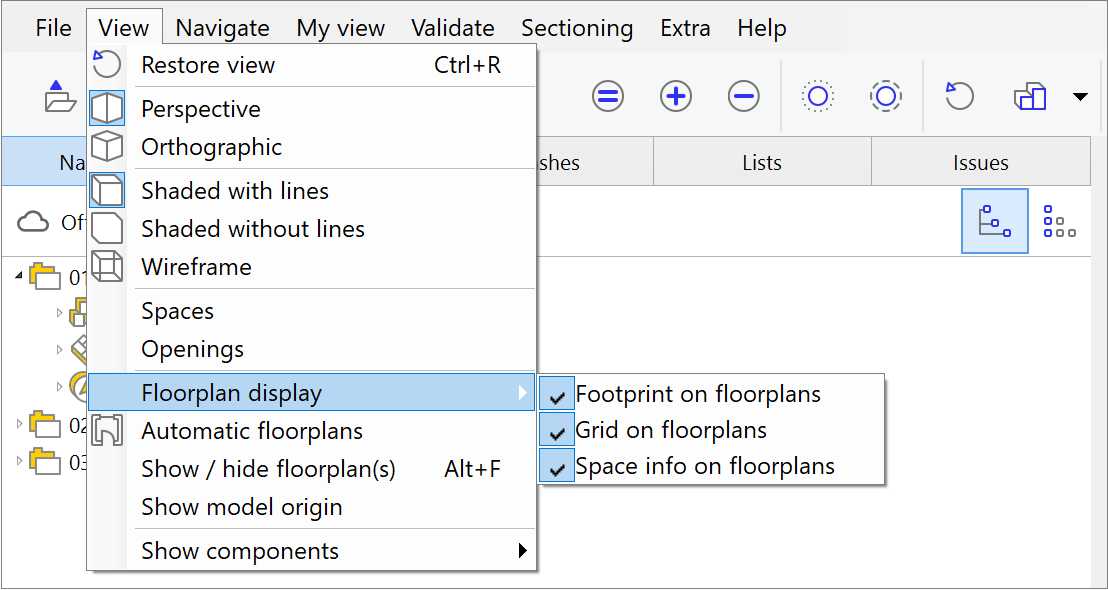 The display of floor plans can be activated or deactivated manually using the keyboard shortcuts Alt+F or via View > Show/hide floor plans. By using this command, the floor plans of all stories will be displayed at the same time. Knowing that superimposing multiple floor plans can make reading difficult, we have implemented the functionality 'Automatic floor plans'.

Automatic floor plans only show the relevant footprints by automatically switching them on and off.

When Automatic floor plans are switched on it means
only those floor plans will be displayed which are relevant to the currently visible components.
When Automatic floor plans are disabled:




When Automatic floor plans are enabled:



You can enable this function by:

Clicking on the 'Toggle automatic floorplans' button on the screen





Going to

View > Automatic floorplans
While enabled, BIMcollab ZOOM will continuously update the floor plans automatically as you change your view.

Apart from the floor plan of the model of which the visible elements are part, Automatic floor plans will also show floor plans from other models on an identical height. This adds complementary information to models which contain very little detail on its floor plans.


Use this feature when zooming to clashes. It is very helpful to understand the context of the clash.
ENGLISH | < 1 MIN WATCH