BIMcollab ZOOM and BCF Managers login with BIMcollab ID
In the newer versions of BIMcollab ZOOM (5.3.29) and the BCF Managers (5.6.49),
you no longer need an activation key to activate the application.
Instead, you will be asked to enter your
BIMcollab ID
credentials. Your BIMcollab ID is an overarching BIMcollab account
based on your email address, which is used to identify you within the entire BIMcollab ecosystem.
When you open the newer versions of BIMcollab ZOOM or the BCF Managers for the first time, a login window will pop up and you will be prompted to enter your email address.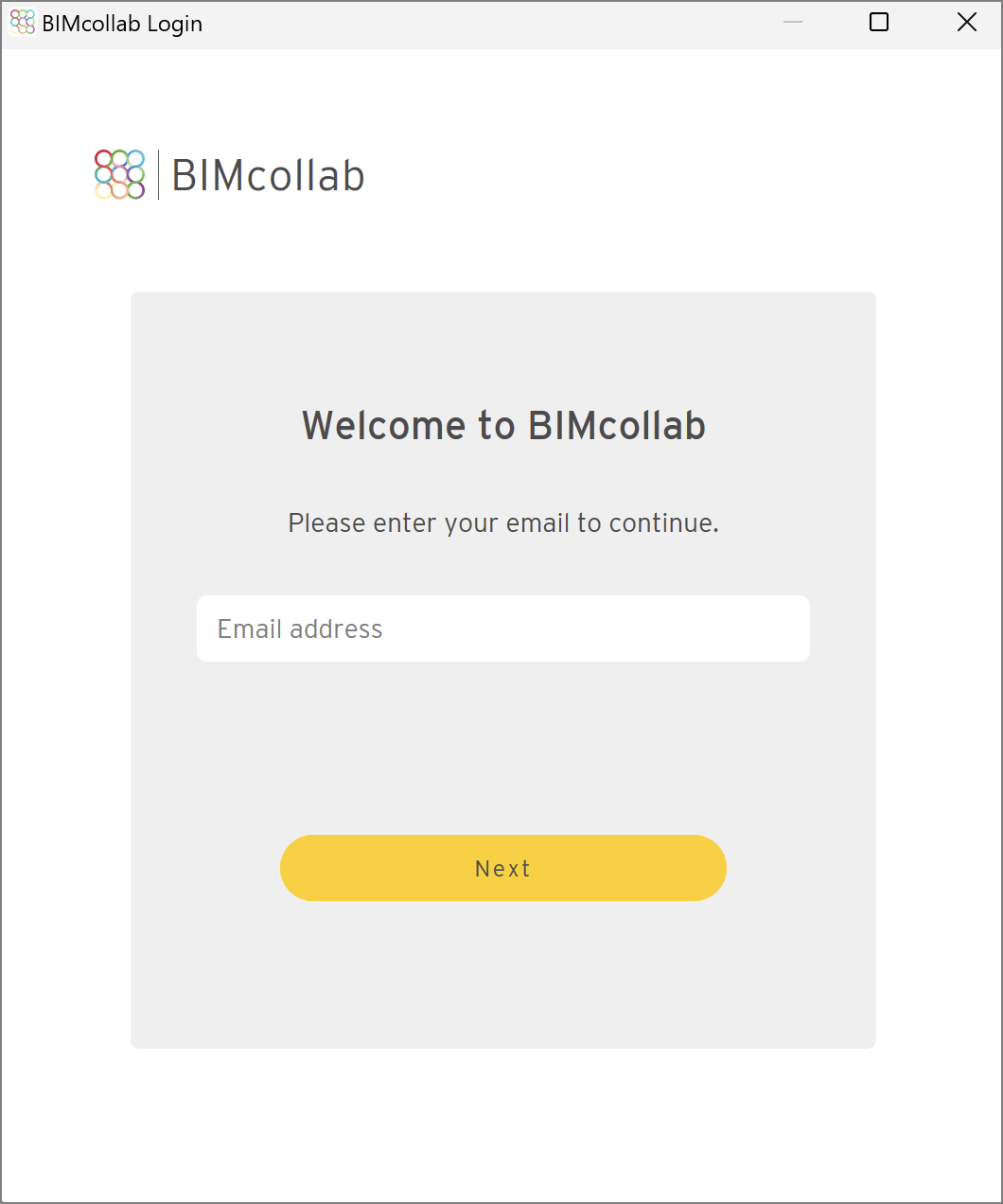 Troubleshooting

You get the message that your password is incorrect


You might have entered a password you use to access a private BIMcollab Cloud space.


The password for your BIMcollab ID can differ from the password you use to login to private BIMcollab Cloud spaces.

Enter you BIMcollab ID password, or click 'Forgot your password?'.

You can also access your BIMcollab ID information via

https://my.bimcollab.com

You do not yet have a BIMcollab ID
When you enter your email address, ZOOM/ the BCF Manager will automatically recognize whether a BIMcollab ID already exists for that address. If no ID is found, you will be redirected to a window where you can immediately create a new account.



There is no internet connection


For activation, you must be connected to the internet. If BIMcollab ZOOM or the BCF Manager cannot connect to the internet, it will automatically start in free mode.


If your internet connection runs through a proxy server, you can enter your proxy settings by going to :


ZOOM:

Extra > Settings > Connection

BIMcollab ZOOM > Preferences > Connection


BCF Managers: BCF Manager settings


In the settings window, activate 'Enable proxy server', and enter the proxy settings. If necessary, contact your IT administrator for more information.

Once BIMcollab ZOOM / the BCF Manager has access to the internet, you will be asked to log in the next time the application is started.
For more information about the BIMcollab ID and the BIMcollab ZOOM and the BCF Managers login, consult these articles:

Related Articles

BIMcollab ZOOM login

While working in ZOOM, you will notice that the application might request you to login on several occasions in order to proceed with your work. Although it could look repetitive, each login process has a clear objective and will depend on what you ...

Setting up your BIMcollab ZOOM Trial

BIMcollab ZOOM is a desktop IFC viewer for model validation. The full functionality of BIMcollab ZOOM can be unleashed by acquiring a full ZOOM license. This article will take you through the procedure to obtain a free 30-day trial of BIMcollab ZOOM ...

End-of-life of older versions BIMcollab ZOOM

Below you find a list of older versions of BIMcollab ZOOM and their end-of-life dates. These versions no longer comply to our security demands. Versions 5.3 and newer are based on newer technology and offer better performance and higher security. We ...

Retrieve a ZOOM license

When a BIMcollab ZOOM license is available for you, you can retrieve the license to make use of ZOOM's full potential. There are three different license types (named company licenses, floating company licenses or a personal license), which can be ...

Finding issues in BIMcollab ZOOM

By creating a combination of models (created by different disciplines) you can visually detect conflicts between these models. Next to this, ZOOM has Smart views that can automate identifying and coloring components based on defined or undefined ...